11 Real World Tips On Buying A Home
Before you sign the papers, make sure the house has everything that really matters.

When you're about to make a purchase as big as a home, it's easy to get caught up in relatively minor details like paint color or whether or not it has wood flooring. But don't forget to check on the make-or-break features too, like the ones real home buyers shared with us below. And remember, a real estate agent can advise you on what to look out for to help prevent any surprises when you move into your new house.
1. "Good energy (this is the 'it factor' that's hard to describe, but some houses just don't have it!)." — Christy, Phoenix, AZ
2. "One major thing my husband and I make sure to check when viewing homes is water pressure. Seems like a small thing—turn on the faucet—but believe me, that is something that is hard to change after you buy a house. If you like great water pressure, check it out."
—Sandy, Stafford, VA
3. "My number one tip to home buyers is to check the closet before signing on the dotted line! The closet is where you start and end every day—shouldn't you make sure it's comfortable and has the space to accommodate your wardrobe?"

—Dan, Los Angeles, CA
4. "My top priority when looking at potential houses is the floor plan and flow—does it make sense for the the way I want to live in my home? The arrangement of rooms, the traffic pattern in the house, and the sense of light and space greatly affect the livability. "
—Kim, Houston, TX
5. "We were looking at an apartment in NYC (which I guess is a little different), but we tried to visit at a time when traffic would be the worst to see what the noise was like."
—Jennifer, New York City, NY
6. "For myself and my clients, I make sure to check the big-ticket items, like the roof, windows and heating systems."
—Jessica, real estate agent in Newport, RI
7. "It's simple. Home buying should be about square feet and location. Everything else is just cosmetics." —Adam, Chicago, IL
8. "I was told, 'You want to like the way your house looks, but you should also like the house across the street because that's the one you're going to look at.' (It's true!)"
— Stephanie, New York City, NY
9. "We have the kids play at the neighborhood playground so we can get a feel for the neighborhood. In addition, we drive by the house at different times of the day and week to check things out, like street parking, noise level and traffic."
— Haiyen, Los Angeles, CA
10. "I looked at the outdoor space—having trees on the property was important to me. And also how much sunlight I would get in the house during the day."
— Janell, Oakville, Ontario
11. "It's important to consider not just proximity to neighbors but who the neighbors are. While plumbing and electric can be upgraded, neighbors cannot be exchanged." —Michelle, Los Angeles, CA
The Nest and the National Association of Realtors® The Journey Home, a sponsored series full of house-hunting inspiration, including tips and advice from Realtors® and couples on their own home searches. To locate a Realtor® who can help you find your dream house, visit realtor.com/GetRealtor.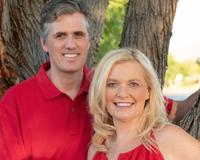 Author:
Sandy Horne
Phone:
702-327-4070
Dated:
September 7th 2016
Views:
84
About Sandy: ...