7 Sneaky Storage Ideas To Hide Your Clutter In Plain Sight
Solve the problem of corralling your stuff once and for all.

You purged. You donated. You discarded. Yet, even with excess items banished from your home, clutter is creeping back in. The real culprit? All those household essentials and cherished keepsakes still need a tidy, convenient spot to live. Without accessible storage, these must-haves quickly take over countertops and corners, garages, and the great outdoors. But with a little creativity, you can reclaim these spaces while keeping all your things right in reach.
Get inspired to declutter your home with these clever solutions that turn everyday items and locations into sneaky storage spots right under your nose.
1. Curate Your Clutter
Sometimes the difference between "clutter" and "collection" is all in the presentation. After falling in love with film photography as a student, Nicholas Hendrickx amassed an expansive assortment of cameras — from $1 thrift-shop finds to high-end brands like Hasselblad — scattered throughout his home.
To give his treasures the respect they deserve, he invested in a simple display case from Ikea — white to match the other cabinetry in his work space. Through Hendrickx's careful spacing and grouping, even old flashbulbs and film holders are now part of an artful installation.
"It's nice to be surrounded by these beautiful cameras that each have a memory connected to it," he says.
2. Capitalize on Crevices
That 6-inch space between your refrigerator and the wall can either be a destination for dust bunnies or the answer to your small-kitchen storage woes. Classy Clutter blogger Mallory Nikolaus spent just $110 to build a pull-out pantry for canned goods and spices. The 64-by-31-inch cabinet is constructed of primed pine boards and dowels, with a handle and metal casters that allow it to smoothly slide back into its slim space — not that this creation deserves to be hidden. The polished yet quirky piece is finished with beadboard on the back and a spray-painted chevron pattern inside.
Because it's supported by the wall on one side and the refrigerator on the other, Nikolaus notes it's important not to pull the cabinet out too far.
3. Conceal an Eyesore, Create Storage
Who doesn't love a double-duty fix? For a mere $10, this yard-sale armoire enabled handy homeowner Melodye Farrar to conceal her home's electric and cable boxes and create built-in storage for a garden hose and cleaning supplies.
Situated next to the back door, the space was a longtime eyesore, but it took just one day to remedy. Farrar and her husband removed the top and back of the armoire and built a concrete-stone foundation to keep the cabinetry out of any standing water. Two L-brackets and concrete anchors secure the top of the armoire to the wall, and a coat of marine varnish protects the wood from the elements.
For Farrar, the cabinet makes it much more enjoyable to entertain in the surrounding garden area, with cleaning supplies close at hand yet out of sight.
4. Store in the Stairs
When it comes to making every cubic inch count, we all could learn a thing or two from New York City studio dwellers. In this 500-square-foot home, Brooklyn-based architect Jordan Parnass took efficiency to a new level, crafting stairs that serve as drawers.
"It seemed criminal to waste that volume," Parnass says of the space underfoot.
Given the dual functionality, a project like this requires custom construction. Parnass used low-profile drawer pulls that limit tripping hazards, and high-end materials that will hold tight under shifting weight. Of course, homes with children (or absent-minded adults) might consider the risk of left-open drawers to outweigh the reward.
5. Beef Up Bed Storage
Your bed takes up prime real estate in your home. And for all but eight hours of the day, it doesn't serve much of a purpose. Why not put that space to work? Beds with built-in drawers are convenient for in-season clothing, while lift-up mattresses like this Ikea model offer a box-spring-size storage area for items you don't reach for every day.
Prefer to DIY your way to clever bed storage? Atlanta-based organizing expert Gigi Miller suggests going the old-school route. Those risers you relied on in your cramped college dorm room will lift your bed from 3 to 6 inches off the ground, providing enough space to slide storage containers underneath. Miller recommends clear containers on wheels for maximum ease, and canvas bins lined with cedar planks for keeping clothing fresh.
6. Pegboard Pots and Pans
Julia Child knew how to cook. She also knew how to keep her kitchen organized. One of its most renowned features? A floor-to-ceiling pegboard for her French copper pots and pans. It's an ideal way to gain storage by using vertical surfaces. And it's affordable. A basic 2-by-4-foot pegboard made of plastic or pressed wood will run you less than $10, and a starter kit with mounting hardware and hooks costs less than $20.
As for the aesthetics, "A kitchen pegboard can be both functional and beautiful if done right," Miller says. Paint, frame, or cover it with fabric for a pop of personality and color, and keep the look polished by grouping similar items — pots and pans on one board, utensils on another.
7. Make a Mobile Yard Work Station
It's a condition that can afflict even the mostorganized garage: Little by little, all those yard and garden tools find their way onto workbenches and the floor, crowding out cars and humans alike. Professional organizer Amanda Kovattana fought back, using reclaimed materials to reclaim her garage.

This ingenious rolling cart is constructed from two doors, unused sewer pipe, and salvaged closet rods — all mounted on four beefy casters. The one material Kovattana purchased for the project: a pegboard for odds and ends that might otherwise end up on the floor.
This project took Kovattana, an experienced carpenter, about six hours to build. But even for a novice, the time invested will pay off in spades when you don't need a search party to find the darn rake.
Article courtesy of HouseLogic.com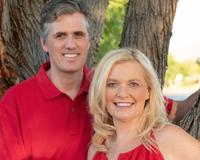 Author:
Sandy Horne
Phone:
702-327-4070
Dated:
November 12th 2016
Views:
68
About Sandy: ...