All About VA LOANS For Our Military Members
In additional to being a Realtor, I am also a newly commissioned officer serving as the 1st Lieutenant in the U.S. Air Force Reserves Medical Service Corp unit. I have not applied for a VA Loan yet but after reviewing all the videos below, I would definitely like to utilize this great benefit for myself as well as encourage other qualified military personnel! For additional information, go to www.ebenefits.va.gov and check out the videos below.
VA HOME LOANS
-No Down Payment & No PMI
-Lower credit scores (>620)
-Cash out refinance $325,000
-Sellers can pay closing costs
-Refinance 100% of home value
-Qualify for up to $1,094,625 ($1.5m in Hawaii & Alaska)
How do I know if I qualify for a VA Loan?
-VA Loans apply to Veterans, Active Duty (90 days), Guard & Reserves (6 years) & Qualified Surviving Spouses
Where Do You Get Your DD-214?
-From www.ebenefits.va.gov or complete a form in the national archives

Can A VA Loan Be Used For New Construction?
-Yes

PROS & CONS

-Seller is more likely to accept a cash and conventional offer
-VA offer may need to be higher than listing price to look attractive
-Cover letters may help make a connection with the seller when making a VA offer
APPROVAL VS. PRE-APPROVAL
-An Approval is always stronger than Pre-Approval

DISABILITY & FUNDING FEE
-If you are disabled, you do NOT pay a funding fee

INSPECTIONS & APPRAISALS
-Minimum property requirements (ask for waiver eligibility for refinance)
-Inspection not required but suggested
What are the Occupancy Requirements?
-Not for investment purpuses
-Must have intent to occupy
-You can submit for an exception depending on specific event & time frame
Can I Have More Than One VA Loan?
-Yes, depends on the amount of Entitlement
WHAT IS AN ASSUMABLE MORTGAGE?
-Any one can assume as long as the new person goes through qualification process
For any question, feel free to contact me!
Your Las Vegas Real Estate Agent,
Karen Beck
Realtor (R)
One Nevada Credit Union
2645-A S. Mojave Road
Las Vegas, NV 89121
Cell: 702.381.3813
Office: 702.948.5368
Fax: 702.925.9974
www.KarenB.OneNevadaRealty.com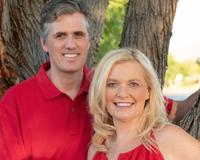 Author:
Sandy Horne
Phone:
702-327-4070
Dated:
May 3rd 2016
Views:
526
About Sandy: ...